8
Apr 2013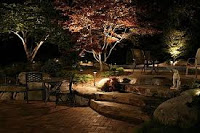 My first involvement with landscape light was courtesy of Home Depot. Before I was in the lighting industry and knew better, I went to Home Depot and bought a really inexpensive kit containing a small transformer, 3 or 4 up lights and some low voltage wire. I hooked it all up and enjoyed looking out at my backyard until piece by piece the system stopped working.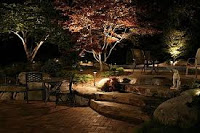 I really like landscape lighting when done correctly and subtly. The photo at right shows a tastefully lit back yard. Notice the depth of field that the lighting produces. The trees are beautiful and the steps are lighted. Landscape lighting brings the outdoors in and creates a focal point for people inside the house. It eliminates the "black hole" effect of windows at night. I can guarantee you that this lighting is not from Home Depot.
Most Landscape lighting is low voltage, meaning a transformer reduces normal household voltage from 120V to 12V (24V in some circumstances). A two conductor wire is run from the transformer to the individual fixtures. The further away from the transformer the lower the voltage becomes. This is called voltage drop and is due to the resistance in the wire and the power that other lights are drawing from the transformer. Thus lights get dimmer the further they are from the transformer. LED technology is really beneficial in landscape lighting because LED's use less power and therefore voltage drop is much less noticeable.
When contemplating landscape lighting consider buying the best you can afford. There is a big difference in quality. Landscape lighting is exposed to the elements 24/7 and needs to be water tight and corrosion resistant. Landscape lighting is really enjoyable. Install some today!
Please visit FoggLighting.com and call or email with any questions or comments.