19
Apr 2019
Q: What's the best way to illuminate artwork in my home?
A: If you've invested in a beautiful piece of art, you want to display it in the best possible light. One way of doing this is by directing ceiling-mounted spotlights or track fixtures at works exhibited on walls or shelves. This approach works well in a minimalist space and offers flexibility if you like to move things around. Picture or track lights installed on the wall or the frame of an individual work are another option that creates intimacy in a room by visually lowering the ceiling and drawing viewers in for a closer look. Here are examples from our store of Tech Lighting's Georgi lamp mounted on track and "monopoint" canopies:
Until recently, halogen bulbs were the lamps of choice for accenting artwork, but today's LED equivalents have evolved to provide a strong alternative. The European Union has been phasing out the use of halogen spotlights since 2016 and will issue a wider ban of halogen bulbs in 2018. Accordingly, museums have been shifting to LEDs, which offer significant energy savings, lower costs, and better light distribution. Equally important: unlike halogens and other incandescent bulbs, LEDs do not emit the infrared and ultraviolet rays, and accompanying heat, that can damage artwork.
Did you know that Leonardo da Vinci's Mona Lisa is illuminated with LED lamps in the Louvre? Specifically, the masterpiece is lit with a custom Toshiba fixture comprised of 34 LED bulbs with precise spectrum controls. Works in the museum's famed Red Rooms are also enlivened with Toshiba LEDs.
While we can't provide our clients with highly specialized lamps like the Louvre uses, we have discovered an excellent system for customizing any LED fixture. The SORAA Snap System, used with the lamps above, consists of magnetic disks that snap onto the face of a bulb, allowing you to change the size, shape, and color of the beam to suit your artwork.
We love to support the local art community and regularly invite artists to exhibit and sell their work in our showroom. As you may have guessed, we are currently showing images by nature photographer John Orcutt. Stop by for a tour and demonstration on how lighting can transform your artwork. Here's a sampling of some of the diverse products you'll find:
12
Apr 2019

Q: As I get older, I'm finding it harder to see when I read or do other simple tasks in my home, even with my glasses on. Can you suggest some lighting improvements that might help?
A: When I was a teenager, I used to kid my father because he could not read menus in dimly lit restaurants. Now that I'm in my 70s, I realize how insensitive that was! As we age, our pupils actually get smaller, so less light makes it to the back of the eye. Many people start noticing changes in their vision around age 50 and, by the time you're my age, you need about three times as much light as a 25-year-old does to read and perform fine-motor tasks. In addition to more wattage, older adults need glare-free illumination that is consistent from room to room, since moving from a low-light space to a bright one can be disorienting.
At Fogg Lighting, one of the things we try to educate people about is the concept of layers of light. Basically, you need a mix of light sources at different levels to create a properly lit space. We generally establish a first layer of ambient illumination in a room using decorative fixtures such as a chandelier, pendants, or semi-flush or flush-mount units. Accent and task lighting — typically some combination of well-placed recessed or track fixtures, sconces, under-cabinet units, cove lights, and table and floor lamps — fills in the shadows and helps you see what you're doing. Contrast this scenario with one in which recessed fixtures are the only light source, as is sometimes the case in hallways. Used on their own, these units create pockets of light and darkness that make the area difficult for seniors (and toddlers!) to navigate.
For reading and other activities, it's important to have a dedicated fixture that can accommodate the equivalent of a 100-watt incandescent bulb. Choose an opaque shade to reduce glare and an articulated arm if you want the option of shining the light onto a book. Here are a few of my favorite products.
These dimmable lamps by Holtkotter have transitional shapes and efficient halogen bulbs. Adjust the height of the floor lamp and move the arm to direct light where you need it.
For a more modern look, I love these sleek LED fixtures by Koncept, which are dimmable, adjustable, and work well in tight spaces.
Want more information? We are trained to design lighting plans that will see you through the aging progress. Stop by our store for a free consultation tailored to your specific needs.
5
Apr 2019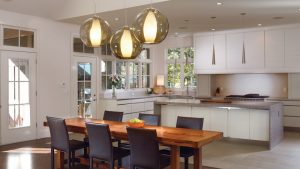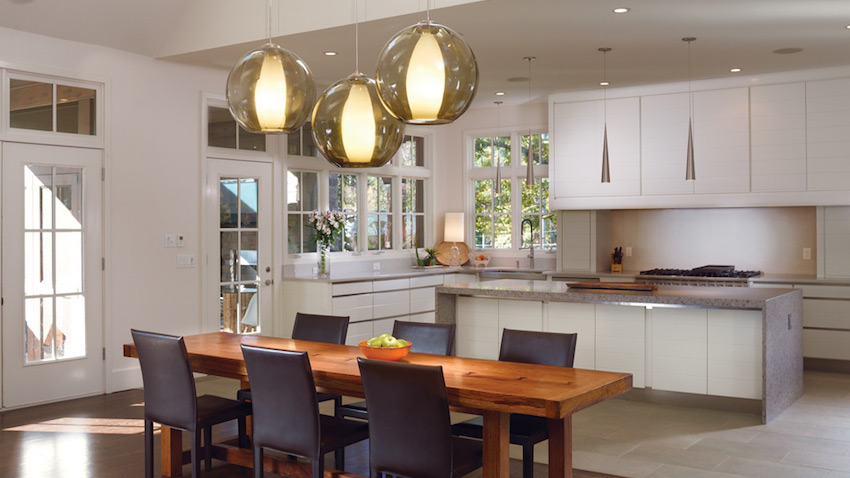 Q: It used to be easy to replace a light bulb; now there are so many options, I don't know what to choose. What do you recommend?
A: It's hard to imagine a household commodity that has changed more in the last five years than the light bulb. The incandescent bulbs we all grew up with wasted a lot of energy and have been phased out. Government mandates ushered in the brief reign of the more efficient, but widely despised, compact fluorescent bulbs, or CFLs, which emit terrible-quality light and are difficult to dispose of because of their mercury content. The public's loathing of CFLs accelerated the development of light-emitting-diode bulbs known as LEDs, which now rule the lighting world. These use up to 80 percent less energy than the old incandescents and can last for decades. LEDs are improving all the time and their prices are coming down. However, the quality of light they produce varies significantly, so it's helpful to understand some lighting nomenclature before you buy.
Most LED bulb boxes have a Lighting Facts label that indicates brightness (measured in lumens), color temperature (labeled K for Kelvin temperature), energy use, estimated energy costs, and expected life. Since most packages also specify the type of incandescent bulb the LED replaces, you don't need to pay much attention to the brightness measure. Instead, zero in on color temperature: 3,000K is my recommendation for a universally flattering, warm-white light. Anything higher is going to have a cooler, bluish-white cast. Another good measure is the Color Rendering Index, or CRI, which tells you how accurately the bulb renders colors compared to an incandescent bulb, which has a CRI of 100. For LEDs, a CRI of 80 or higher is best.
To ensure an LED will fit in your fixture, bring your old bulb with you to the store and compare the bases. The splayed fins that LEDs have to dissipate heat make them larger than other bulbs. Make sure the bulb is dimmable (you may need to replace your dimmer switches with LED-friendly ones to avoid annoying flickering or buzzing). And if you plan to use the bulb outdoors and/or in an enclosed fixture (some LEDs require more airflow than these lights provide), check that these applications are noted on the box.
If you haven't already, now's the time to embrace this new technology — unlike previous innovations, this one is here to stay.