12
Apr 2019

Q: As I get older, I'm finding it harder to see when I read or do other simple tasks in my home, even with my glasses on. Can you suggest some lighting improvements that might help?
A: When I was a teenager, I used to kid my father because he could not read menus in dimly lit restaurants. Now that I'm in my 70s, I realize how insensitive that was! As we age, our pupils actually get smaller, so less light makes it to the back of the eye. Many people start noticing changes in their vision around age 50 and, by the time you're my age, you need about three times as much light as a 25-year-old does to read and perform fine-motor tasks. In addition to more wattage, older adults need glare-free illumination that is consistent from room to room, since moving from a low-light space to a bright one can be disorienting.
At Fogg Lighting, one of the things we try to educate people about is the concept of layers of light. Basically, you need a mix of light sources at different levels to create a properly lit space. We generally establish a first layer of ambient illumination in a room using decorative fixtures such as a chandelier, pendants, or semi-flush or flush-mount units. Accent and task lighting — typically some combination of well-placed recessed or track fixtures, sconces, under-cabinet units, cove lights, and table and floor lamps — fills in the shadows and helps you see what you're doing. Contrast this scenario with one in which recessed fixtures are the only light source, as is sometimes the case in hallways. Used on their own, these units create pockets of light and darkness that make the area difficult for seniors (and toddlers!) to navigate.
For reading and other activities, it's important to have a dedicated fixture that can accommodate the equivalent of a 100-watt incandescent bulb. Choose an opaque shade to reduce glare and an articulated arm if you want the option of shining the light onto a book. Here are a few of my favorite products.
These dimmable lamps by Holtkotter have transitional shapes and efficient halogen bulbs. Adjust the height of the floor lamp and move the arm to direct light where you need it.
For a more modern look, I love these sleek LED fixtures by Koncept, which are dimmable, adjustable, and work well in tight spaces.
Want more information? We are trained to design lighting plans that will see you through the aging progress. Stop by our store for a free consultation tailored to your specific needs.
8
Mar 2014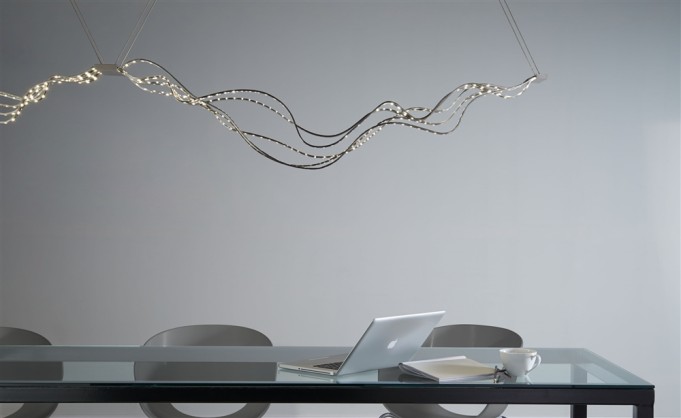 Here is an example of what is happening in the the world of lighting today and what will continue to happen in the foreseeable future. LED's are all the rage and designers are finding all sorts of new ways to incorporate them into light fixtures. The reasons are clear: LED's consume far less energy than incandescent light bulbs, LED's are cool to the touch, LED's have better color temperature than they did in the past, LED's have a super long life, and LED's are small so fixture design can be very creative. In addition to LED fixtures like this one, LED light bulb design is evolving very quickly also. Technicians are finding ways to make them more attractive and more like the good old fashioned incandescent light bulbs. Some of the new LED light bulbs even grow warmer in color temperature as they are dimmed, just like incandescent light bulbs do. Additionally, new, more efficient heat sink materials are being developed which allow LED light bulbs be more streamlined and closer in appearance to both A-lamps and candelabra bulbs. Pretty soon you will be able to use LED bulbs in chandeliers and not notice a difference between them and the candelabra bulbs they replace. Best of all, LED's are becoming less expensive all the time as manufacturing becomes more efficient and more manufacturers enter the marketplace. As with anything though, I urge you to be careful when buying any LED product as there still are huge quality differences among the myriad of products and producers out there. Try to see the product before you buy it to make sure the color of the light is acceptable to you. I recommend buying dimmable LED light bulbs and fixtures – some LED's are not dimmable. I also recommend caution in using dedicated LED recessed lighting fixtures. Once you install them they are in the ceiling a long time and the quality of the light might not be satisfactory for you. Instead, consider buying a regular recessed fixture and using an LED light bulb. That way you are not locked in. Please visit our website www.fogglighting.com and like us on Facebook. You also might be interested in the Underwriter's Laboratory app, LightSmart, which can be downloaded from the App Store. It has all kinds of great information about lighting…and its free.