26
Apr 2019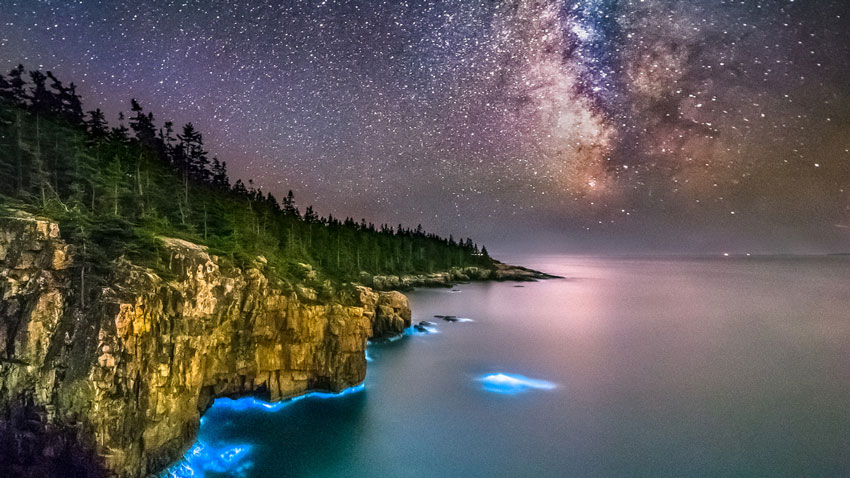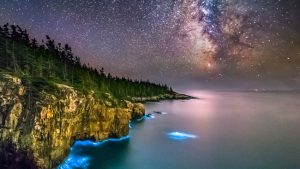 Photo by Benjamin Williamson
Q: What are "dark sky friendly" exterior fixtures?
A: Sounds like an oxymoron, right? Outdoor lamps are there to illuminate the darkness, helping us move around safely. But in so doing, many also allow light to escape into the night sky, a phenomenon known as light pollution that masks our view of the stars. In fact, an international group of scientists recently determined that the Milky Way is invisible to more than one-third of the world's population, including nearly 80 percent of North Americans. Light pollution also contributes to energy waste, disrupts many ecological processes, particularly for nocturnal animals, and can have a negative impact on human health, interrupting sleep and causing headaches, stress, and anxiety.
In 2008, Bar Harbor — home to Acadia National Park, one of the most blissfully dark places on the eastern seaboard — passed an ordinance regulating outdoor lighting on all new construction in town. To comply, fixtures over 1,800 lumens must be "dark sky friendly" — i.e., have casings or canopies that shield the bulbs, preventing them from being seen from above. Other cities and towns, including Portland, have their own ordinance requirements for lighting; check with your municipality to find out what the rules are.
No matter where you live, I recommend choosing warm (no more than 3,000 Kelvin), dimmable LED downlights, like those described above, to curb light pollution, reduce glare, and create a soothing — versus blinding — outdoor environment. Remember also that you don't need many fixtures to make an impact outside; learn about my less-is-more approach to landscape lighting here.
As for dark sky-compliant fixtures, these picks will adequately illuminate your home and yard and facilitate stargazing.
Cover Photo: On Acadia National Park's Schoodic Peninsula, Down East's director of photography, Benjamin Williamson, captured the Milky Way and bioluminescence in the water.
12
Apr 2019

Q: As I get older, I'm finding it harder to see when I read or do other simple tasks in my home, even with my glasses on. Can you suggest some lighting improvements that might help?
A: When I was a teenager, I used to kid my father because he could not read menus in dimly lit restaurants. Now that I'm in my 70s, I realize how insensitive that was! As we age, our pupils actually get smaller, so less light makes it to the back of the eye. Many people start noticing changes in their vision around age 50 and, by the time you're my age, you need about three times as much light as a 25-year-old does to read and perform fine-motor tasks. In addition to more wattage, older adults need glare-free illumination that is consistent from room to room, since moving from a low-light space to a bright one can be disorienting.
At Fogg Lighting, one of the things we try to educate people about is the concept of layers of light. Basically, you need a mix of light sources at different levels to create a properly lit space. We generally establish a first layer of ambient illumination in a room using decorative fixtures such as a chandelier, pendants, or semi-flush or flush-mount units. Accent and task lighting — typically some combination of well-placed recessed or track fixtures, sconces, under-cabinet units, cove lights, and table and floor lamps — fills in the shadows and helps you see what you're doing. Contrast this scenario with one in which recessed fixtures are the only light source, as is sometimes the case in hallways. Used on their own, these units create pockets of light and darkness that make the area difficult for seniors (and toddlers!) to navigate.
For reading and other activities, it's important to have a dedicated fixture that can accommodate the equivalent of a 100-watt incandescent bulb. Choose an opaque shade to reduce glare and an articulated arm if you want the option of shining the light onto a book. Here are a few of my favorite products.
These dimmable lamps by Holtkotter have transitional shapes and efficient halogen bulbs. Adjust the height of the floor lamp and move the arm to direct light where you need it.
For a more modern look, I love these sleek LED fixtures by Koncept, which are dimmable, adjustable, and work well in tight spaces.
Want more information? We are trained to design lighting plans that will see you through the aging progress. Stop by our store for a free consultation tailored to your specific needs.
18
Mar 2013
Kitchen with Multiple Layers of Light
Most lighting designers consider layers of light essential to good lighting plans. In addition to providing adequate levels light, layers of light add visual interest to a room which makes the room a much more enjoyable space.
Layering lighting means adding several different effects of light, varying color, intensity and texture. These layers consist of task, ambient, accent, wall and decorative lighting. All these layers come together and lend themselves to good composition and to providing a focal point.
In the photo above you will see a kitchen that has eight or nine different layers of light. Task lighting is provided by recessed lights, ambient lighting is provided by the ceiling fixtures, the pendants as well as the ceiling fixtures provide the decorative lighting. The toe-kick lighting along with the up-lighting on top of the cupboards and the lighting under the island counter top provide great accent lighting. This is a terrific looking kitchen and the lighting is the reason. It is pleasing to the eye in addition to being functional.
Please visit us at FoggLighting.com. And be sure to follow us Follow @lightingfogg