8
Mar 2014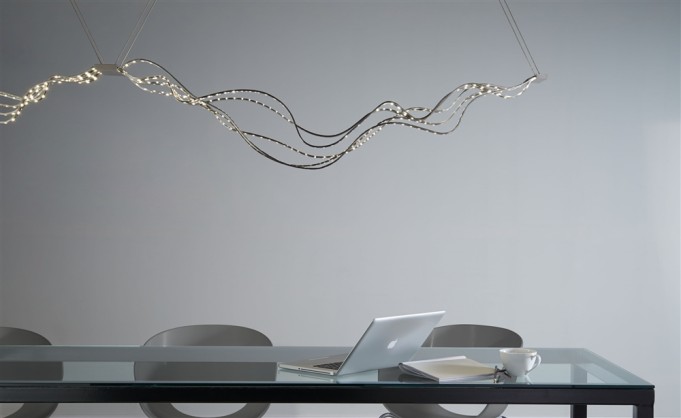 Here is an example of what is happening in the the world of lighting today and what will continue to happen in the foreseeable future. LED's are all the rage and designers are finding all sorts of new ways to incorporate them into light fixtures. The reasons are clear: LED's consume far less energy than incandescent light bulbs, LED's are cool to the touch, LED's have better color temperature than they did in the past, LED's have a super long life, and LED's are small so fixture design can be very creative. In addition to LED fixtures like this one, LED light bulb design is evolving very quickly also. Technicians are finding ways to make them more attractive and more like the good old fashioned incandescent light bulbs. Some of the new LED light bulbs even grow warmer in color temperature as they are dimmed, just like incandescent light bulbs do. Additionally, new, more efficient heat sink materials are being developed which allow LED light bulbs be more streamlined and closer in appearance to both A-lamps and candelabra bulbs. Pretty soon you will be able to use LED bulbs in chandeliers and not notice a difference between them and the candelabra bulbs they replace. Best of all, LED's are becoming less expensive all the time as manufacturing becomes more efficient and more manufacturers enter the marketplace. As with anything though, I urge you to be careful when buying any LED product as there still are huge quality differences among the myriad of products and producers out there. Try to see the product before you buy it to make sure the color of the light is acceptable to you. I recommend buying dimmable LED light bulbs and fixtures – some LED's are not dimmable. I also recommend caution in using dedicated LED recessed lighting fixtures. Once you install them they are in the ceiling a long time and the quality of the light might not be satisfactory for you. Instead, consider buying a regular recessed fixture and using an LED light bulb. That way you are not locked in. Please visit our website www.fogglighting.com and like us on Facebook. You also might be interested in the Underwriter's Laboratory app, LightSmart, which can be downloaded from the App Store. It has all kinds of great information about lighting…and its free.
26
Mar 2013



Alan E. Salzman
the chief executive officer and managing partner at VantagePoint Capital Partners
On LED lighting
"By 2020, you're not going to be able to buy a light source other than an LED. You're on a learning curve of cost reduction, quality improvement and efficacy improvement. Today, 2013, is the first year you're going to be able to buy an exact clone of a regular 60-watt incandescent bulb at a reasonable price point—meaning a one-year payback to consumers. This year it's a $10 product. We're looking at it being a $5 product within 24 months, $2.50 within 48 months. So, by the time you get to 2020, it would be the equivalent cost to today's regular light bulb, last 25 years and use 85% less energy.
But probably the more interesting thing is, after you digitize the light socket and you switch to LEDs, there's a second and third wave coming. Changing the color temperature. Changing the ambience of the room. Being able to integrate other functionality—it's your Wi-Fi hot spot, it's your alarm system because it detects presence coming into the room. You've got a raft of functionality that just has to be integrated into the bulb itself."
Interesting stuff! The fact is that you can buy an LED light bulb today that you can control from you PC, smart phone or tablet. It is expensive, but it is available. So it is only a reasonable extension that within the near future you can place these "solid state lighting devices" anywhere and monitor them or have them monitor you. I hope the politicians don't find out about this!!
Questions about lighting? Ask me. If I do not know the answer I will get an answer for you. Be sure to visit FoggLighting.com for lighting products.