22
Mar 2019
Q: What's a good strategy for lighting a yard?
A: I suggest following a less is more approach. You don't want your yard to be lit up like a theme park, and I promise your neighbors don't either. Too much exterior light can be blinding, uses unnecessary electricity, and contributes to the brightening of the night sky, making it difficult to see stars and disrupting animal habitats. Instead, focus on installing fixtures where you need them — near a patio or path, for example — and accentuating a few special features in the landscape. In addition to making your yard feel inviting when you're outdoors, these pockets of illumination give you something to gaze out at (other than a black window) when you're inside your home at night.
I recommend down lighting, also known as moonlighting, as an environmentally friendly means of landscape lighting. You can place downlights, which have a cylindrical casing around the bulb to eliminate glare, high up on tree trunks and aim them at a walkway, seating area, or the tree's own foliage for a moonlit effect. Path lights — typically 18- to 24-inch posts topped with canopies that direct light downward — are a good choice for highlighting plantings in a garden. Modern versions, such as those shown above, are also available. Place path fixtures about 20 feet apart to create glowing areas that draw the eye from one plant to the next versus a single blast of illumination. Avoid stationing these lights at regular intervals along a path, which conjures a landing strip, and using them on lawns, where they are vulnerable to lawnmowers and weed wackers.
Opt for solid brass or copper fixtures, which hold up well in Maine weather and can withstand the occasional ding from a power tool, and use 20-watt equivalent LED bulbs. These last up to 20 years in a landscape setting (compared with six months to a year for halogen bulbs), a lifespan you'll be especially thankful for if your fixtures are in a tree.
8
Mar 2014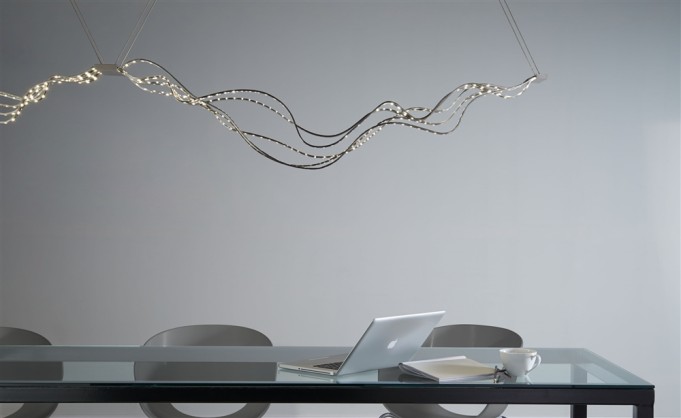 Here is an example of what is happening in the the world of lighting today and what will continue to happen in the foreseeable future. LED's are all the rage and designers are finding all sorts of new ways to incorporate them into light fixtures. The reasons are clear: LED's consume far less energy than incandescent light bulbs, LED's are cool to the touch, LED's have better color temperature than they did in the past, LED's have a super long life, and LED's are small so fixture design can be very creative. In addition to LED fixtures like this one, LED light bulb design is evolving very quickly also. Technicians are finding ways to make them more attractive and more like the good old fashioned incandescent light bulbs. Some of the new LED light bulbs even grow warmer in color temperature as they are dimmed, just like incandescent light bulbs do. Additionally, new, more efficient heat sink materials are being developed which allow LED light bulbs be more streamlined and closer in appearance to both A-lamps and candelabra bulbs. Pretty soon you will be able to use LED bulbs in chandeliers and not notice a difference between them and the candelabra bulbs they replace. Best of all, LED's are becoming less expensive all the time as manufacturing becomes more efficient and more manufacturers enter the marketplace. As with anything though, I urge you to be careful when buying any LED product as there still are huge quality differences among the myriad of products and producers out there. Try to see the product before you buy it to make sure the color of the light is acceptable to you. I recommend buying dimmable LED light bulbs and fixtures – some LED's are not dimmable. I also recommend caution in using dedicated LED recessed lighting fixtures. Once you install them they are in the ceiling a long time and the quality of the light might not be satisfactory for you. Instead, consider buying a regular recessed fixture and using an LED light bulb. That way you are not locked in. Please visit our website www.fogglighting.com and like us on Facebook. You also might be interested in the Underwriter's Laboratory app, LightSmart, which can be downloaded from the App Store. It has all kinds of great information about lighting…and its free.
16
Apr 2013

What follows is a reprint of an article about Euroluce, Europe's amazing lighting show.

Laura Van Zeyl


MILANO-RAMA
By Laura Van Zeyl
Euroluce made its bi-annual appearance in Milan last week as part of the annual Salone Internazionale del Mobile furniture fair at Fiera Milano Rho just outside Italy's fashion capital. A staggering 320,000 attendees take part — that's more than twice the attendance at the Consumer Electronics Show, just to put it in perspective.
The crowds boost the excitement and energy level at an event that's already elevated in terms of its elaborate booth displays. These stunning temporary presentations often feel like art installations that celebrate design for its own sake — and the designers behind the creations.
With such abundant originality in each booth, it's hard to discern "trends" per se, but at this year's show, there were a few recurring themes worth noting:
Design potential of LED. This compact and increasingly practical light source is like a new toy in the hands of designers eager to explore new forms. The most common use of LED seemed to be to hide it around the perimeter of a shape and graze a surface at the center, sometimes bringing out raised designs, textures or trompe l'oeil effects of dimensionality. Only a few of the contemporary exhibitors didn't integrate LED, speculating that retrofit bulb options would allow LED to be used if desired. But in my view, this misses the point of taking advantage of LED's unique properties.
Mixed media. The incorporation of wood into frames of lamps and fixtures may not feel new since we've seen that already stateside, but it was groundbreaking for many glass manufacturers at Euroluce. When your reputation for a particular craft dates back centuries, as it does for many of these Italian exhibitors, you're very deliberate about selecting other materials to sit alongside your masterpieces. Walnut was the most popular choice, which had the right richness to hold its own with mouth-blown glass.
Glossy or ghostly white. Gloss white finishes are another trend already present here as well, but the contours of the sculptural shapes seen at Euroluce just seemed sexier in application. Polished chrome accents were an equally sleek complement. In a more organic vein, matte and textured white finishes conveyed a purity of form in fabrics, papers and fiberglass. These looks had very little, if any, additional adornment or framing to potentially kill the ethereal mood.
Retro modern. Nostalgic silhouettes felt delightfully ironic when they housed cutting-edge LED technology. Classic Midcentury Modern styles were exaggerated to emphasize the reference but also indicate that it was only a jumping-off point to take us into the future. The retro vibe was present in display as well as in design, from LZF's Blue Note-inspired album art to Ares' homage to Studio 54.
I thought you might be interested in what is happening in the world of lighting. Please visit FoggLighting.com and like us on Facebook.