22
Mar 2019
Q: What's a good strategy for lighting a yard?
A: I suggest following a less is more approach. You don't want your yard to be lit up like a theme park, and I promise your neighbors don't either. Too much exterior light can be blinding, uses unnecessary electricity, and contributes to the brightening of the night sky, making it difficult to see stars and disrupting animal habitats. Instead, focus on installing fixtures where you need them — near a patio or path, for example — and accentuating a few special features in the landscape. In addition to making your yard feel inviting when you're outdoors, these pockets of illumination give you something to gaze out at (other than a black window) when you're inside your home at night.
I recommend down lighting, also known as moonlighting, as an environmentally friendly means of landscape lighting. You can place downlights, which have a cylindrical casing around the bulb to eliminate glare, high up on tree trunks and aim them at a walkway, seating area, or the tree's own foliage for a moonlit effect. Path lights — typically 18- to 24-inch posts topped with canopies that direct light downward — are a good choice for highlighting plantings in a garden. Modern versions, such as those shown above, are also available. Place path fixtures about 20 feet apart to create glowing areas that draw the eye from one plant to the next versus a single blast of illumination. Avoid stationing these lights at regular intervals along a path, which conjures a landing strip, and using them on lawns, where they are vulnerable to lawnmowers and weed wackers.
Opt for solid brass or copper fixtures, which hold up well in Maine weather and can withstand the occasional ding from a power tool, and use 20-watt equivalent LED bulbs. These last up to 20 years in a landscape setting (compared with six months to a year for halogen bulbs), a lifespan you'll be especially thankful for if your fixtures are in a tree.
7
Mar 2019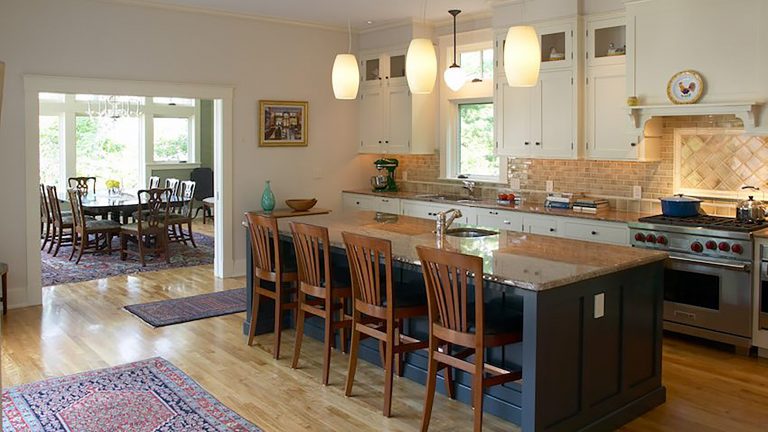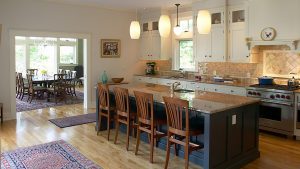 By Sanford Fogg
In a new monthly column, Sanford Fogg, of Fogg Lighting in Portland, offers his best advice on illuminating your home.
Q: What's the most important thing to consider when planning lighting for a new home or remodel?
A: Bringing in a lighting designer at the start of a project is key. This is not a luxury reserved for people with big budgets. We will consult with any customer, free of charge, in our store. For a reasonable charge, we'll also make a house call, but this is not typically necessary. Working with floor plans or drawings, we can determine how much light you need in a room, what types of fixtures will work best, and where they should go. Because lighting is one of the last things to be installed in a house, people often don't contact us until the final weeks of a project. At this point, the wiring is done and it's no longer possible to alter the lighting plan. We see kitchens that are drastically under-lit, with a grid of recessed lights in the center of the room instead of over the work surfaces. In living rooms, people frequently use recessed fixtures like klieg lights overhead, when they should be positioned around the room's perimeter to create more comfortable, ambient illumination — to name just a couple of potential pitfalls.
Because contractors' allowances are sometimes not enough to cover the type of lighting homeowners want or need, we also help clients devise a realistic budget up front so they are not hit with unexpected costs at the end of the process. You can spend a lot of time and money on your plans and architect, and choose the prettiest countertops, tile, and art, but if you don't light it all properly, you can't take full advantage of, or truly appreciate, the work you've done.
12
Mar 2013
Why would you want to use a lighting designer to help you with your lighting? That is a question that you should consider if you are building or remodeling. There are several valid reasons to engage a lighting designer.
A lighting designer has been trained and has had experience in how a space should be lit. We have had experience both in the classroom and on the job. Lighting designers are familiar with all the different light sources and fixtures and can match them to the tasks being performed. Most of all, a lighting designer is working with you and for you to help you avoid making a mistake that you might regret later.
It is your home. You spend a lot of money on decorative accents, furniture, kitchen counters and bathroom tile. You deserve to have the lighting to enjoy all these features of your home. That is where a lighting designer provides a great value.