30
Mar 2013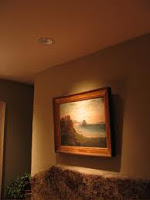 If you made the decision to light your art work there are several alternatives you can consider: recessed lighting, track lighting, mono point lighting, and picture lights. Picture lights are probably the easiest way if your home is already built and wired.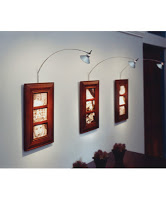 The photo on the left shows some modern picture lights. This type of light can be of either the hardwired or plug-in variety. The plug-in ones usually plug into a "clock box" behind the painting. A "clock box" is a recessed outlet so the plug does not protrude out from the wall. Sometimes the plug is further down the wall so the cord is exposed.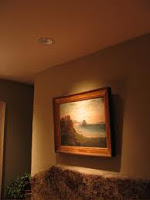 The photo on the right shows a picture that is lit by a directional recessed light. I like this type of lighting for art because it it unobtrusive and yet does a really good job. You can also add filters to the light to filter out UV rays or to change the shape of the light beam.
Another good way to light art is with a wall or ceiling rail or track system. I like the look of a wall rail system and it is really useful if you have a wall that has multiple paintings. It has a similar look as modern picture lights.
I say "go for it". Light your art and you will love what that does for your house. It adds a new dimension. Please visit my website, FoggLighting.com and call or email with any questions or comments.