19
Apr 2019
Q: What's the best way to illuminate artwork in my home?
A: If you've invested in a beautiful piece of art, you want to display it in the best possible light. One way of doing this is by directing ceiling-mounted spotlights or track fixtures at works exhibited on walls or shelves. This approach works well in a minimalist space and offers flexibility if you like to move things around. Picture or track lights installed on the wall or the frame of an individual work are another option that creates intimacy in a room by visually lowering the ceiling and drawing viewers in for a closer look. Here are examples from our store of Tech Lighting's Georgi lamp mounted on track and "monopoint" canopies:
Until recently, halogen bulbs were the lamps of choice for accenting artwork, but today's LED equivalents have evolved to provide a strong alternative. The European Union has been phasing out the use of halogen spotlights since 2016 and will issue a wider ban of halogen bulbs in 2018. Accordingly, museums have been shifting to LEDs, which offer significant energy savings, lower costs, and better light distribution. Equally important: unlike halogens and other incandescent bulbs, LEDs do not emit the infrared and ultraviolet rays, and accompanying heat, that can damage artwork.
Did you know that Leonardo da Vinci's Mona Lisa is illuminated with LED lamps in the Louvre? Specifically, the masterpiece is lit with a custom Toshiba fixture comprised of 34 LED bulbs with precise spectrum controls. Works in the museum's famed Red Rooms are also enlivened with Toshiba LEDs.
While we can't provide our clients with highly specialized lamps like the Louvre uses, we have discovered an excellent system for customizing any LED fixture. The SORAA Snap System, used with the lamps above, consists of magnetic disks that snap onto the face of a bulb, allowing you to change the size, shape, and color of the beam to suit your artwork.
We love to support the local art community and regularly invite artists to exhibit and sell their work in our showroom. As you may have guessed, we are currently showing images by nature photographer John Orcutt. Stop by for a tour and demonstration on how lighting can transform your artwork. Here's a sampling of some of the diverse products you'll find:
30
Mar 2013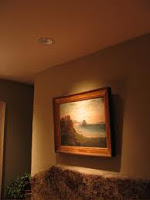 If you made the decision to light your art work there are several alternatives you can consider: recessed lighting, track lighting, mono point lighting, and picture lights. Picture lights are probably the easiest way if your home is already built and wired.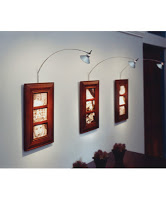 The photo on the left shows some modern picture lights. This type of light can be of either the hardwired or plug-in variety. The plug-in ones usually plug into a "clock box" behind the painting. A "clock box" is a recessed outlet so the plug does not protrude out from the wall. Sometimes the plug is further down the wall so the cord is exposed.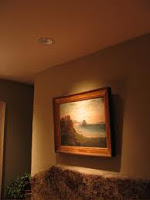 The photo on the right shows a picture that is lit by a directional recessed light. I like this type of lighting for art because it it unobtrusive and yet does a really good job. You can also add filters to the light to filter out UV rays or to change the shape of the light beam.
Another good way to light art is with a wall or ceiling rail or track system. I like the look of a wall rail system and it is really useful if you have a wall that has multiple paintings. It has a similar look as modern picture lights.
I say "go for it". Light your art and you will love what that does for your house. It adds a new dimension. Please visit my website, FoggLighting.com and call or email with any questions or comments.