Ceiling Fans are Cool! Ceiling Fans are Hot! Right on both counts. Ceiling fans help you feel cool during the warm months and help warm a house during the cool months. By so doing they can save up to 20% of the cost of both heating and cooling. They do not actually cool the house, but they make you feel cool because they move air over your skin which increases the evaporation of the moisture on your skin. And they do not actually heat your house, but they recirculate the warm air that otherwise would be trapped near the ceiling. So in the summer you can turn your thermostat to a higher setting and in the winter the warm air being recirculated keeps the lower part of the room warmer lessening the call for the furnace to come on.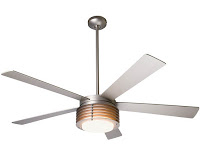 Cool Fan!
Ceiling fans come with different size blades so you will want to select the correct size fan for the size of your room. A 36″ fan is appropriate for small rooms up to 75 square feet. A 42″-50″ fan works well in rooms between 76-144 square feet. Rooms that are 144-255 square feet are right for 52″-54″ fans. A large room that is 225-400 square feet should use a 54″-72″ diameter fan and it is appropriate to use multiple fans in a great room that is larger than 400 square feet.
Ceiling fans are available with lights or "light kits" so they can be used to add light to a room. Contrary to popular opinion, the lights do not have to be ugly, even though a lot of them are really, really ugly. Those ugly fan lights have given all fan lights a bad reputation. Some ceiling fans have full function remote controls thereby enabling you to reverse the direction of the fan, change the speed of the fan and turn the lights on or off from the comfort of your Lazy Boy. Some fans have a reversing switch on the body of the fan and others cannot be reversed at all.
There are many, many ceiling fans available today in all kinds of styles, sizes and colors. Be sure to choose a good quality fan with a strong motor and blades that are at least a 14 pitch. Please visit us at http://www.fogglighting.com and like us on Face Book.