29
Mar 2019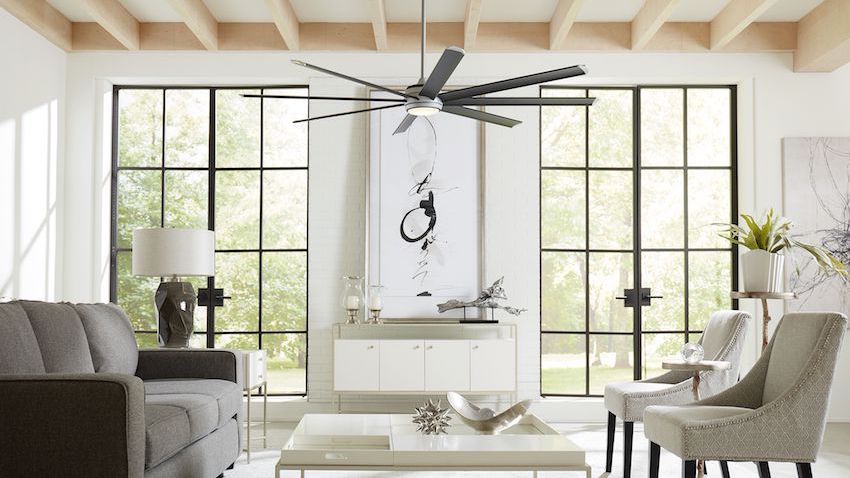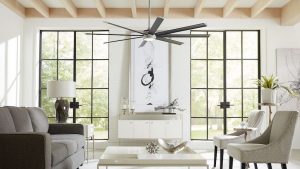 Q: How effective are ceiling fans and what should I look for when shopping for one?
A: Ceiling fans have a place in every home. While they do not lower the temperature, they make you feel more comfortable on steamy days by evaporating moisture on the skin and reducing body heat. In the winter, you can reverse the motor so the blades rotate clockwise and run the fan on low to gently recirculate the warm air that normally gets trapped near the ceiling. By employing ceiling fans throughout the year, and therefore relying less on your furnace and AC, you can save up to 20 percent on heating and cooling costs.
Aesthetically, ceiling fans have gotten a bad rap over the years, but they've come a long way. There are now many attractive ones available in a wide range of designs — from traditional shapes with streamlined styling to futuristic models with curvy, aerodynamic blades. A lot of fans are also equipped with LED lights that provide good ambient illumination. Check out some of my favorite styles, below.
Once you've zeroed in on a fan style, be sure to pick one with a blade span that is right for your room. A 36-inch unit is appropriate for small rooms up to 75 square feet; for spaces up to 144 square feet, choose a 42- to 50-inch one. Large rooms up to 255 square feet require a 52- to 54-inch model and those up to 400 square feet need a 54- to 72-inch one. Use multiple fans in a room that's bigger than 400 square feet. Look for blades with a 14- to 16-degree pitch for optimum air movement, measured in cubic feet per minute (cfm). I recommend a fan with a cfm rating of 5,000 or higher, which will have a stronger motor, last longer, and operate more quietly than other types.
For best performance, mount your fan seven to 10 feet from the floor and six to eight inches from the ceiling. Every three months or so, wipe down the blades with a dampened cloth to remove dust that can curb efficiency and cause wobbling.
Fanimation – Pickett
Minka Aire – Acero
The Modern Fan Co. – Altus
Minka Aire – Groton
Minka Aire – Java
Minka Aire – Rainman
The Modern Fan Co. – Stella
15
Aug 2013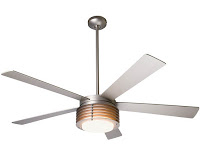 Ceiling Fans are Cool! Ceiling Fans are Hot! Right on both counts. Ceiling fans help you feel cool during the warm months and help warm a house during the cool months. By so doing they can save up to 20% of the cost of both heating and cooling. They do not actually cool the house, but they make you feel cool because they move air over your skin which increases the evaporation of the moisture on your skin. And they do not actually heat your house, but they recirculate the warm air that otherwise would be trapped near the ceiling. So in the summer you can turn your thermostat to a higher setting and in the winter the warm air being recirculated keeps the lower part of the room warmer lessening the call for the furnace to come on.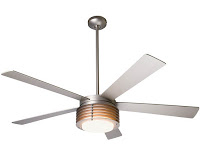 Cool Fan!
Ceiling fans come with different size blades so you will want to select the correct size fan for the size of your room. A 36″ fan is appropriate for small rooms up to 75 square feet. A 42″-50″ fan works well in rooms between 76-144 square feet. Rooms that are 144-255 square feet are right for 52″-54″ fans. A large room that is 225-400 square feet should use a 54″-72″ diameter fan and it is appropriate to use multiple fans in a great room that is larger than 400 square feet.
Ceiling fans are available with lights or "light kits" so they can be used to add light to a room. Contrary to popular opinion, the lights do not have to be ugly, even though a lot of them are really, really ugly. Those ugly fan lights have given all fan lights a bad reputation. Some ceiling fans have full function remote controls thereby enabling you to reverse the direction of the fan, change the speed of the fan and turn the lights on or off from the comfort of your Lazy Boy. Some fans have a reversing switch on the body of the fan and others cannot be reversed at all.
There are many, many ceiling fans available today in all kinds of styles, sizes and colors. Be sure to choose a good quality fan with a strong motor and blades that are at least a 14 pitch. Please visit us at http://www.fogglighting.com and like us on Face Book.  
20
Mar 2013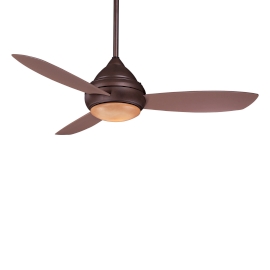 Ceiling fans are a great way enhance the value of the home. They cool in summer and re-circulate warm air in the winter. Some estimates are that ceiling fans can save as much as 30% of the total energy cost of heating and cooling. Adding a light can make a ceiling fan into an ambient light source as well as a fan.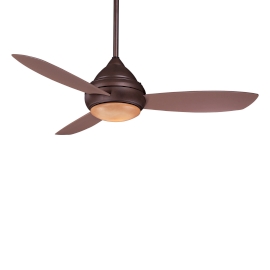 Minka Aire Fan
I hear a lot of concern from customers worried about how a ceiling fan with light looks. Those concerns stem from the older less fashionable ceiling fans that have been around for years. The new fans that we sell are a lot better looking and higher quality than those of the recent past. The fan pictured here is an example of an attractive, efficient, quiet ceiling fan.
Some fans are reversible. Some of those are reversible by remote control or wall switch, and some are only reversible by climbing up to the fan an moving a switch from one position to another. If you want a reversible fan you should check how it reverses, especially if you have high ceilings!
The argument for reversible fans is questioned by some critics. Supposedly the fan should push air down in the summer and recirculate air going by in the opposite direction in the winter. It is a point for debate, but the most widely held view is that reversibility is best.
There is a lot more you should know about ceiling fans. I will address that in a future posting. In the meantime please visit FoggLighting.com and follow us on Twitter.