27
Sep 2013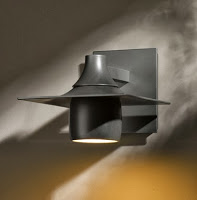 Your outdoor lighting fixtures are one of the first thing people notice when they look at your house. The fixtures set the tone and say a lot about the home owners. There are many, many different types, styles, sizes and quality levels of exterior lights so you should learn some of the basics before buying.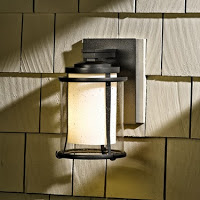 Hubbardton Forge Exterior Fixture
(I have several of these on my house)
 Size – This is an important consideration that many buyers overlook in their purchasing decision. A fixture on display in a lighting store may look large in the store but when mounted on the side of a house may look really too small. So before buying a fixture I recommend that you make a model of the fixture by cutting out a piece of paper or cardboard the size of the fixture and pinning it to your house. Then go down the driveway to the street and look at your house from a distance. How does the fixture look? Too big, too small or just right?

Glare – My biggest gripe with most exterior lighting is the amount of glare it produces. A prime example are the flood lights that many people mount to the garage that come on when somebody drives into the yard. How does that help you see anything! The glare of the lights blinds you so you can not see anything until your pupils dilate again. You do not need much light outside when it is dark; it is the contrast produced by a little light that helps you see, think of the moon. (Also, the neighbors might not like the light pollution produced by glarey exterior fixtures). So I recommend you buy fixtures that do not produce glare and use frosted light bulbs.
Quality – There is no question that good quality is more expensive than poor quality, but good quality is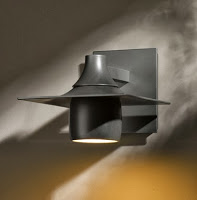 Dark Sky Fixture
usually a better value and it shows! If you plan to live in your house for a while buy a better fixture once rather than a cheap fixture twice or three times, especially if you live in a harsh climate, like almost everywhere. Salt air, ice, wind, excessive sun and heat are all tough on an exterior fixture. Better quality is usually noticeable also. 

Dark Sky – These fixtures are being mandated in a lot of communities for good reason, they contain the light and prevent it from spilling over and causing light pollution. This is especially important in sensitive areas where the night sky is still visible. They provide security and safety and do not allow light to escape into the night sky. I am a big advocate for dark sky fixtures for lots of reasons, no light pollution and no glare to name two.

Style – Style is purely a matter of personal taste. Styles range from Colonial America to Mission to Ultra Modern and everything in between. Chose what you feel looks good on your house. It is your house after all. There are all sorts of different finishes available too. So, for example, you can see the same fixture in a dark brass, raw copper, antique brass, green verdigris, raw brass or mission brown finish. They all might look great, but pick the one that you think will look best on your house.

Exterior lighting is important for safety and security, and it also enhances the appearance of you house. Visit an independent lighting showroom for the best quality and design options. Visit us at www.fogglighting.com and like us on Face Book. Be sure to download the UL app, "LightSmart" from the app store for all kinds of useful information about lighting.
Navigation
Categories
Archives