17
Mar 2019

By Sanford Fogg
Photo Courtesy of Tech Lighting
Q: What's the proper way to light a bathroom?
A: While the most critical need is adequate lighting at the vanity, I recommend incorporating additional layers of ambient and task lighting in a large space. In a master bathroom, these might consist of a centrally located ceiling fixture, a recessed light over the toilet, and recessed light(s) in the shower. In a powder room, vanity lighting alone might be sufficient (although I always recommend a recessed fixture over a toilet). Every situation and budget is different. But if you spend $10,000 to tile your walk-in shower, you should allocate $200 more to light it properly! For those on a smaller budget (i.e., most people), installing an exhaust fan with a light over the tub/shower is also a fine solution.
Sconces mounted beside the mirror at approximately head height, 65 to 70 inches above the floor, provide the best vanity lighting. These produce even illumination across the face. A sconce or bath bar installed above the mirror provides the next-best lighting. Most lighting designers advise against having recessed fixtures over a vanity as they create shadows under the eyes, nose, and chin, making tasks like shaving and applying makeup more difficult.
Opt for sconces with opal versus clear-glass shades, as the latter tends to produce glare. When choosing fixtures, I recommend ones that accept a minimum of 60-watt light bulbs, or the equivalent in an LED, per sconce. Like all lights, these fixtures should be on a dimmer that you can crank up when you're getting ready in the morning, and down when you want to relax in the bath.
14
Mar 2014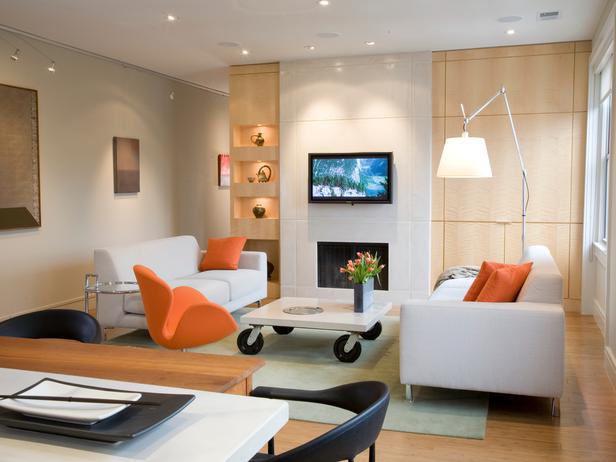 Please be sure to think about floor lamps as you consider how to add light to your rooms. Floor lamps add interesting design elements and provide a pleasing layer of light.
In living  rooms and family rooms you do not need a specific amount of illumination to perform tasks, you need layers of light to add interest and make the room feel inviting for friends and  family.There are thousands of different styles of floor lamps from which to chose, something for every taste and situation.
Please visit FoggLighting.con for more useful suggestions. We are here to help if you need it.
18
Mar 2013
Kitchen with Multiple Layers of Light
Most lighting designers consider layers of light essential to good lighting plans. In addition to providing adequate levels light, layers of light add visual interest to a room which makes the room a much more enjoyable space.
Layering lighting means adding several different effects of light, varying color, intensity and texture. These layers consist of task, ambient, accent, wall and decorative lighting. All these layers come together and lend themselves to good composition and to providing a focal point.
In the photo above you will see a kitchen that has eight or nine different layers of light. Task lighting is provided by recessed lights, ambient lighting is provided by the ceiling fixtures, the pendants as well as the ceiling fixtures provide the decorative lighting. The toe-kick lighting along with the up-lighting on top of the cupboards and the lighting under the island counter top provide great accent lighting. This is a terrific looking kitchen and the lighting is the reason. It is pleasing to the eye in addition to being functional.
Please visit us at FoggLighting.com. And be sure to follow us Follow @lightingfogg