Wired: How Electricity Came to Maine
Exhibit Dates: June 22, 2012 – May 26, 2013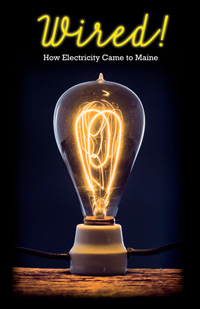 Carbon filament bulb with evacuation tip, ca. 1900, photo by Peter Macomber
Wired! explores the electrification of Maine during the 20th century, and how a rural state became modern. Told primarily through material from the Central Maine Power collection, it explores the landscape, mechanics, economics, politics, and culture of electricity.
The story begins with efforts to harness the energy of Maine's rivers to power small mills. It spreads as entrepreneurs, tinkerers, and investors sought to transmit that energy further and further, and to sell it to businesses and homeowners. Finally, the story is about the grid, and what it took to get it built.
The exhibit explores how Mainers were shaped by power: engineers and linemen who figured out how to deliver electricity to the masses, and people everywhere who overcame initial fears to embrace and rely on it for almost every aspect of their daily lives. As we continue to look for affordable, clean energy, this is a story that joins Maine's past, present, and future.
Please take time to visit this fascinating exhibit at The Maine Historical Society, 489 Congress Street, Portland, ME. You can check their website, http://www.mainehistory.org/, for hours. And please visit www.FoggLighting.com for all your lighting needs.